Well, here I am again with yet another card for the Christmas Extravaganza for ISC. I had a lot of fun creating this card ... I am MUI-loving the text-y background image. It looks soooo eclectic and cool!
I guess I am just going to have to give in to the fact that Christmas is SOOOO much closer than I care to admit!! What is up with THAT??? I have NO idea where the time went this year! I could SWEAR that we JUST had Christmas!! (Or maybe it's just that I hate to admit that I still have stuff that hasn't been put away yet from LAST year ... okay, just kidding!!)
I think all of the Christmas sets that ISC has come out with are so beautiful and versatile ... you will have a GREAT time playing with them!! (And ya KNOW you WANT 'em!!)
Stamps:
Eclectic Christmas by ISC
Ink:
Night of Navy
Paper:
Shimmery Navy, Shimmery White, Silver
Accessories:
Spellbinders Large Deckled Rectangle and Deckled Mega Rectangles - Small Nestabilities, Snowflakes Cuttlebug embossing folder, navy and white organza ribbon, MS snowflake punch, Jewels rhinestone sticker for Doodlebug
ONE MORE TIME FOR GOOD MEASURE! - Win
3 FREE
of the Newest Christmas Stamp Sheets (Joyful Christmas, Eclectic Christmas, Festive Christmas)! All you have to do is, leave a message about what Christmas means to you & yours on the last stop on the blog hope...the ISC blog. This opportunity will end Wednesday, October 14.
ISC is also offering 10% off your order! The Christmas Stamp Line is jammed packed and for a limited time only the retail price has been reduced!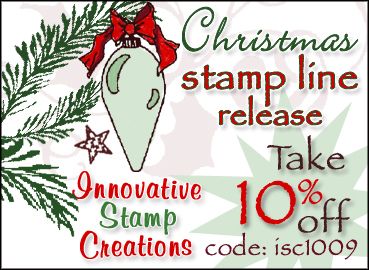 Click this link to go back to the beginning of the blog hop on ISC's blog: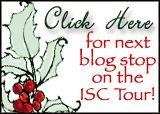 And here's a complete blogroll in case you want to go to a specific blog:
ISC Blog
Kathy
Sabrina
Julie
Joanne
Connie
Wendy (ME!!)